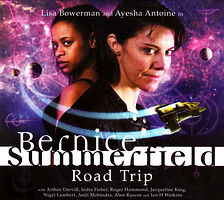 Note: Contains 3 audio dramas: Brand Management by Christopher Cooper, Bad Habits by Simon Barnard & Paul Morris, and Paradise Frost by David Llewellyn. The novel The Weather on Versimmon was released at the same time, as a "spin-off".
Cover blurb:
When Bernice Summerfield awoke from stasis, she found a message waiting: an instruction from a very old acquaintance, telling her to make her way to a planet called Legion... and to her son, Peter.
As she begins her intergalactic road trip through the cosmos, Bernice quickly learns that her journey won't be easy. Family feuds, noxious nuns and lethal leisure worlds are set to hound her every step of the way, whilst old friends are ready and waiting for her arrival...
Old lives are abandoned. New lives lie in store... with many others hanging in the balance.