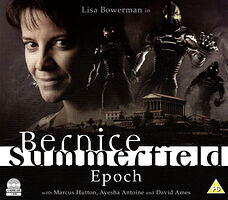 Note: Box set containing 4 audio dramas: The Kraken's Lament by Mark Wright, The Temple of Questions by Jacqueline Rayner, Private Enemy No. 1 by Tony Lee and Judgement Day by Scott Handcock. Also contains a bonus DVD (Region 0 / PAL format) containing behind-the-scenes documentaries plus the one-off animated adventure Dead and Buried, which was previously viewable only as a webcast on the Big Finish website.
Cover blurb:
When Bernice Summerfield took up archaeology, she wanted to immerse herself in history — to explore extinct civilisations, ancient cultures; and unearth long-forgotten relics.
Now, against all odds, she finds herself alone in a land of myth — lost to a world of Minotaurs, Kraken and Pegasii — trying to find a home within the city of Atlantis.
New friends lie in wait, but so do ancient enemies. Powerful gods will try to smite her. The Hierophants will rise. And the Epoch will oversee the end of everything...
Soon, Atlantis will wall... the city will perish... and so will Bernice Summerfield.