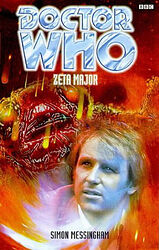 By:
Simon Messingham
Rating:
6.7 (140 votes) Vote here
Review:
To Long Read more (6 in total)
Released:
July 1998

Publisher:
BBC Books
ISBN:
0-563-40597-X
Format:
paperback
Owned:
Buy:
Cover blurb:
'You've decided to concentrate on deriving energy from the kinetic force of planetary movement...'
A glib remark from the Doctor to a desparate scientist has had far-reaching effects on the empire of Morestra. Eminent Morestran scientist Sorenson, attempting to find a new power source for his planet, risked a universal catastrophe by attempting to steal anti-matter crystals from the distant planet of Zeta Minor. The Doctor averted disaster, but has in effect sent all Morestra up a technological cul-de-sac.
Now in his fifth regeneration, the Doctor becomes involved once again in Morestra's future. The empire has become a theocracy, and the all-powerful Church, finally discovering that Sorenson's world-spanning energy tower will never work, is attempting to save face by covertly returning to Zeta Minor to steal the powerful minerals they need. This time, they believe they are prepared for all eventualities...
With his companions embroiled in the ever-shifting loyalties and intrigues of the Morestran court, only the Doctor accepts that the forces of the anti-matter universe can never interact with our own. Can he stop something he started two thousand years ago?
Featuring the Fifth Doctor and Tegan, this adventure takes place between the TV stories Arc of Infinity and Snakedance, and is a sequel to the TV story Planet of Evil.