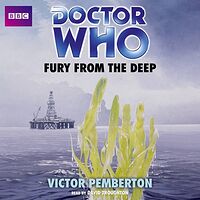 Note: Audio reading of Victor Pemberton's 1986 novelisation — not to be confused with the previously-released audio soundtrack of this story.
Cover blurb:
David Troughton reads this exciting novelisation of a classic Doctor Who adventure
In the dark, uncharted depths of the North Sea it has lurked, growing in strength, growing in size, and striking terror into the hearts of mariners down the untold centuries.
Landing near a North Sea gas refinery off the east coast of England, the TARDIS crew are immediately accused of sabotage. Several rig crews have mysteriously vanished, strange pressure build-ups have been detected, and in the refinery's pipelines the Doctor can hear the steady, rhythmic beat of — what?
Soon the Doctor, Jamie and Victoria will find themselves at the unrelenting mercy of the deadliest and most terrifying foe they have ever encountered...
David Troughton reads Victor Pemberton's complete and unabridged novelisation, first published by Target Books in 1986.