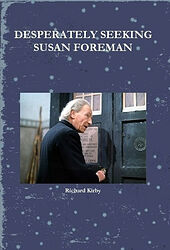 Edition:
UK (1st paperback)
Released:
October 2010

Publisher:
Lulu
ISBN:
None
Format:
paperback
Owned:
Buy:
Note: All proceeds went to Children in Need. Was only available to order online (via Lulu.com) for a limited 1 month period prior to the BBC's annual Children In Need telethon on 19th November 2010, then again for a 2 week period in late Jan/early Feb 2011, before being withdrawn.
Cover blurb:
Desperately Seeking Susan Foreman is my fourteenth book and is the result of a four month project to try and track down as many of Doctor Who's female companions as I could, ask for a signed picture and compile a book based on the search that would then be sold with all the profits going to Children in Need. Well it seemed a good idea at the time...
I have no massive experience about how many copies will be sold, but as a minimum of £2.50 per book will go to charity, I am hoping that between 40 and 80 people will be interested enough to invest... that will mean between £100 and £200 would be raised, which would more than justify all the time and effort in putting the book together.
It's not all Doctor Who related; there are attempts at humour (most pretty feeble) and various digressions along the way. On the downside, even though I have proof read the book three times, there's probably a mistake or two that has slipped through the net, but the fact remains that you have acquired a book that you will never find in the shops (on a bonfire maybe...)
Seriously, thank you. Please post something on my Facebook page if you've enjoyed some/all of the book and with a bit of luck, I'll be able to hand over a three-figure cheque to Children in Need at the end of November.