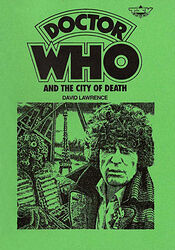 Edition:
New Zealand (2nd paperback)
Title:
Doctor Who and the City of Death
Released:
March 2002

Publisher:
TSV Books
Format:
paperback
Owned:
Note: Substantially rewritten compared to the earlier edition.
Cover blurb:
When the Doctor and Romana take a break from their travels in Paris 1979, a holiday is far from what they get.
Strange things are happening: lost art treasures are turning up, secret experiments are causing distortions in time, and the greatest art fraud in history is about to reach its fruition.
When the time travellers team up with Duggan, a British detective, they learn that everything points to Count Carlos Scarlioni, a wealthy and famous art collector who is somehow much, much more than he seems...
If Scarlioni is allowed to succeed, his plans will result in all life on Earth ceasing to have ever existed...
This is an unofficial and unauthorised fan publication. No profits have been derived from this book. Not for resale.