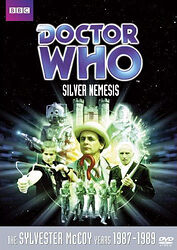 Description: DVD release of the 1988 Doctor Who TV story of the same name.
Cover blurb:
Earth, 1988: While the Doctor and Ace flee from emotionless men wielding futuristic pistols, neo-Nazi Herr de Flores is intent on heralding the Fourth Reich. Meanwhile, the villainous Lady Peinforte uses black magic to propel herself forward from 1638 for a final confrontation with her sworn enemy — the Doctor. And, at the same time, a spacecraft full of Cybermen sets down on Earth.
As the Doctor desperately evades multiple enemies, a meteor containing a Gallifreyan super-weapon is hurtling ever nearer to the planet. Whoever is able to unite the validium statue with its bow and arrow will hold power of life or death over the entire universe.
DVD EXTRAS INCLUDE:
Audio Commentary by actors Sylvester McCoy (the Doctor) and Sophie Aldred (Ace) and script editor Andrew Cartmel
Industrial Action Making Of with Gerard Murphy (Richard), director Chris Clough, writer Kevin Clarke, stunt arranger Nick Gillard, and musician Courtney Pine (33 mins)
Deleted and extended scenes (22 mins)
Trailers and Continuity (5 mins)
Isolated Score
Optional Dolby Digital 5.1 Mix
Photo Gallery (7 mins)
PDF materials: Radio Times Listings
Production Notes Subtitle Option
Digitally remastered picture and sound quality
Originally transmitted November 23 - December 12, 1988