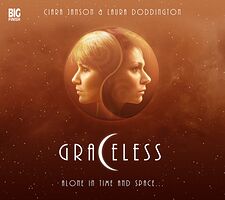 Note: Contain three dramas: The Sphere, The Fog and The End, all by Simon Guerrier.
Cover blurb:
"How did we get here?"
Abby and her sister Zara are not real people. They were made, created by pan-dimensional beings — the Grace — to help save space and time.
The Grace gave them special powers. With just a thought, they can be anywhere or when in the universe. They can affect people, see into their heads, influence their thoughts... They're still learning what they can do.
Now they've completed their mission, the Grace have left them to fend for themselves. The universe is dangerous, unpredictable. Abby is not so good-as-gold as she appears. Zara's already destroyed a whole world.
And they've only got each other.