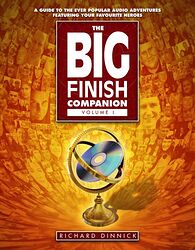 Note: Followed by Volume 2. A coffee-table book providing a comprehensive guide to Big Finish's various releases — primarily Doctor Who of course, but also Bernice Summerfield, Dark Shadows, The Tomorrow People, Sapphire and Steel, Stargate, Highlander, etc.
Cover blurb:
Which Doctor Who play is referenced in the Gallifrey play Blind Eye?
In what play was the character of Adric originally meant to make his Big Finish debut?
When did the sonic screwdriver return following its destruction in the TV story The Visitation?
What was the working title of the Sapphire & Steel play, Daisy Chain?
Which of the six Robin Hood tales is inspired by a Japanese folk tale?
The answers to all these questions — and many, many more — can be found within the pages of The Big Finish Companion.
The Big Finish Companion provides introductions to all the ranges, containing new interviews with the producers and writers, script editors and key actors. It also provides the reader with profiles of the companions that Big Finish created for the Doctor Who ranges.
This volume covers 16 of Big Finish's popular audio ranges including the Doctor Who Main Monthly Range, The Companion Chronicles, Dalek Empire, Jago & Litefoot, Bernice Summerfield, Sapphire & Steel and Highlander.
Enjoy the trivia accompanying every story, along with full cast and crew lists, complete synopses and technical information, as well as a broad collection of behind-the-scenes photographs including some never published before.
If you are a fan of Big Finish, you cannot miss The Big Finish Companion Volume 1 — it's the start of the definitive guide to every audio drama the company has ever produced.
Includes a Foreword by the Sixth Doctor, Colin Baker, star of many Big Finish audios, and an Afterword by David Warner, who played Steel in Sapphire & Steel.