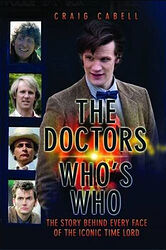 Edition:
UK (hardback)
Released:
September 2010

Publisher:
John Blake Books
ISBN:
978-1-84358-186-4
Format:
hardback
Owned:
Buy:

New:

$26.95

$7.48 Save 72%
Used:
$1.97
Cover blurb:
No blurb on back cover. Inside cover flaps read as follows:
Doctor Who is the world's longest-running science fiction television series, and has had children hiding behind sofas since it was first broadcast in 1963.
Eleven actors have played the famous Time Lord, starting with William Hartnell, and it has been a career landmark for all of them. Indeed, no other role in television history is as iconic, demanding, or as anticipated by its legions of fans as that of the famous time traveller with two hearts.
Find out:
Who was a bouncer for The Rolling Stones before taking control of the Tardis
Who was nearly blown up in the Second World War aboard HMS Hood
Who had a fondness for woolly hats and had a grandson who would become Harry Potter's nemesis
Who played a transvestite barmaid before becoming a Doctor Who heart-throb
All these bizarre facts are explained, and many more, as the lives and careers of each Doctor (including the latest — and youngest — Matt Smith) are put under the spotlight and given the credit they so richly deserve. Including interviews with many of the stars, this is a must have for any fan.
Go back in time and read the human story behind a TV legend.
CRAIG CABELL has been a freelance journalist and writer for 20 years. He spent five years as an in-house reporter at the House Journal of the Ministry of Defence, Focus, and has written 15 books as a biographer and historian. He is an expert on rare and collectable fiction and wrote several regular wine columns for different magazines as well as travelling the world, from Kuwait to Venezuela, for government services. Some of his previous books, such as Operation Big Ben, the anti-V2 Spitfire Mission 1944-45 (with Graham Thomas) and Ian Fleming's Secret War, have attracted much praise. His previous books with John Blake Publishing, James Herbert — Devil In the Dark, Snipers (with Richard Brown), and Ian Rankin and Inspector Rebus have showcased his diversity and specialist skills in literature and small arms. He lives in London with his wife and three children.