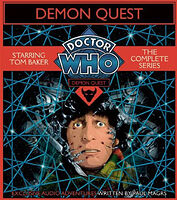 Edition:
US (CD)
Released:
March 2011

Publisher:
BBC Audio
ISBN:
978-1-60283-958-8
Format:
5 x CD
Owned:
Buy:
Note: Box set compilation of all five Demon Quest audio dramas. Originally released in the US only, but made available in the UK later in 2011.
Cover blurb:
Tom Baker reprises the role of the Fourth Doctor in five thrilling brand new adventures, with Susan Jameson as Mrs Wibbsey and Richard Franklin as Mike Yates
The Doctor's return to Nest Cottage lands him in trouble when a key component from the TARDIS disappears. Mrs Wibbsey is unwittingly responsible, having exchanged it for a bag containing four curious objects. It seems that each one is a clue, and the beginning of a chase through Time.
With the TARDIS not working properly, the Doctor and his housekeeper embark on a dangerous journey to Roman Sussex, 19th Century Paris, the snowy mountains of Eastern Europe and 1970s New York. Along the way they collect their old friend Mike Yates, and together the trio face the elusive, demonic being who keeps luring them on in their quest. It soon becomes clear that a trap has been laid for the Doctor — and a place reserved at his ultimate destination...
Tom Baker stars as the Doctor, with Susan Jameson as Mrs Wibbsey, Richard Franklin as Mike Yates, and a cast including Nigel Anthony, Finty Williams, Samuel West, Jan Francis, Carole Boyd, Lorelei King and Trevor White, in these five linked stories written by the acclaimed Paul Magrs.