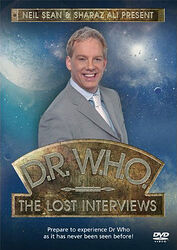 Note: Followed by Tales Lost in Time.
Cover blurb:
Celebrity gossip guru Neil Sean meets and greets the Stars of Dr Who. Including extensive and revealing interviews with "Dr Who" himself, David Tennant, Torchwood very own [sic] "Captain Jack", John Barrowman, and the re-inventor of Dr Who, Russell T Davis [sic], and many more...
Prepare to experience Dr Who as it has never been seen before!