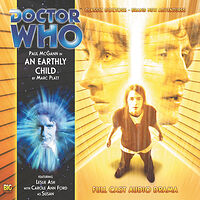 Note: This CD was originally given away free as a special bonus to Big Finish subscribers in late 2009 but was subsequently made available for anyone to purchase (in limited quantities).
Cover blurb:
Thirty years on from the Daleks' invasion of Earth, the scars still haven't healed. The survivors inhabit a world thrown back two hundred years, a world of crop shortages and civil unrest. A world where the brightest and best of its young people are drawn to the xenophobic Earth United group.
A world sliding into a new Dark Age, believes Susan Campbell, widow of one of the heroes of the Occupation. A world in need of alien intervention. A world in need of hope...
But as Susan takes drastic action to secure the planet's future, she's oblivious to the fact that her student son, Alex, ensnared by Earth United, is in need of alien intervention too. Or so Alex's great-grandfather thinks...