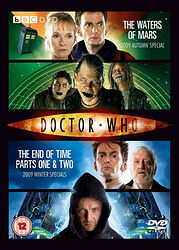 Note: Release of the Autumn and Christmas/New Year 2009 special episodes. The two stories were not released separately in the UK (although they were in the US and Australia: The Waters of Mars and The End of Time). This release also includes an episode of Doctor Who Confidential but otherwise contains no extras — for a more extras-laden release of these stories, see The Complete Specials box set instead.
Cover blurb:
DISC 1: THE WATERS OF MARS
Mars, 2059. Bowie Base One. Last recorded message: "Don't drink the water. Don't even touch it. Not one drop."
EXTRA: Doctor Who Confidential
DISC 2: THE END OF TIME, PART ONE
Christmas Eve, and the Doctor is reunited with Wilf, to face the return of an old enemy. Something terrible stalks the wastelands of London, while far away, the Immortality Gate reaches completion. But the warnings of the Ood signify an even greater danger, as the Doctor faces his darkest hour yet.
EXTRA: Doctor Who Confidential
DISC 3: THE END OF TIME, PART TWO
The Doctor has faced Daleks, Cybermen, angels and devils, but now stands defeated at the end of his life, as the Master's victory unleashes the greatest terror of all. With an ancient plan closing around the Earth, only the Doctor can stop the cataclysm — but is the price too great to pay?
EXTRA: Doctor Who Confidential