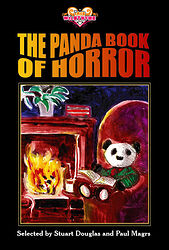 Description: Short story anthology featuring the eccentric Time Lady Iris Wildthyme.
Cover blurb:
THE PANDA BOOK OF HORROR
presents
TODAY'S MOST HORRIBLE AUTHORS
PAUL MAGRS • MARK CLAPHAM
MARK MICHALOWSKI • SIMON GUERRIER
IAN POTTER • DALE SMITH
PHIL CRAGGS • EDDIE ROBSON
NICHOLAS NADA • BLAIR BIDMEAD
MATT KIMPTON • MARK MORRIS
JAC RAYNER & ORNA PETIT
Witness a slender neck being circled by rough hands... sharp metal violently stabbing and twisting... the emerging viscous dark red liquid being guzzled greedily, lingering on lips and teeth, followed by the laughter of madness. And that's just Iris and Panda at a wine tasting! "Pass me the bottle, woman! We might as well KILL it..."
THE PANDA BOOK OF HORROR will make your fur stand on end. Your blood AND your G&T will run ice cold.
Praise for 'Iris Wildthyme and the Celestial Omnibus'
"The Celestial Omnibus shows Iris at her typical best, with brilliant episodes of a charming, maddening and entirely contradictory life."
- Abigail Twitch, shinyshelf.com
"Every single story is of exceptionally high quality"
- Eric C. Johnson, Gallifrey Base
"The proliferation of references to the 'Magrs-verse' give the whole book the feeling of a celebration, and a damned enjoyable one at that."
- Dan Tessier, doctorwhoreviews.co.uk