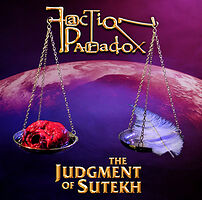 Description: Original audio drama featuring Doctor Who literary spinoff Faction Paradox.
Cover blurb:
Trapped on Mars, two explorers find themselves pawns in a deadly power game between Faction Paradox and Lolita...
The final battle between Sutekh and Horus threatens to tear the fabric of space and time to shreds...
At the end of the day, one side will be victorious... but which will it be?
Faction Paradox was originally created by Lawrence Miles for the BBC's acclaimed Doctor Who series of novels.