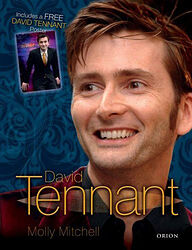 Description: Unauthorised mini-biography of the Tenth Doctor himself.
Cover blurb:
'I grew up loving Doctor Who and it has been my dream to get my very own Tardis.'
At last, the book that fans have been waiting for! David Tennant, star of Saturday night TV, hero to girls and boys alike, has entertained us as the Doctor, wowed us with his striking looks and created a buzz that few actors can compete with. But just who is this amazingly talented man, and what's his story?
In this book you will learn about David's natural style, his excellent sense of humour, his friendships on and off set and the role that made him the household name that he is today.
Filled with facts, quotes and photos and an incredible exclusive poster, this is the ultimate book for all fans of TV's favourite Time Lord...