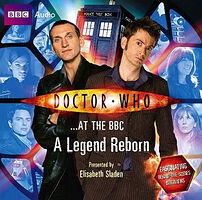 Note: Delayed from a January 2010 launch due to last-minute problems obtaining copyright clearance for certain material (apparently 7 minutes worth of interviews with Billie Piper), necessitating the already-pressed CDs to be scrapped and a new batch pressed without the material in question. A small number of the "original" CDs were distributed prior to the recall, which should turn out to be a very rare collector's item for the lucky recipients. Subsequently re-released as part of the 50 Years of Doctor Who at the BBC box set.
Cover blurb:
An all-new volume of interviews and behind-the-scenes features from the worlds of Doctor Who, presented by Elisabeth Sladen
In 2005, after sixteen years off-air, Doctor Who returned to BBC Television — and soon became more popular than ever before. In this special anthology of clips and interviews, featuring newly-released material, Elisabeth Sladen journeys back to the recent past to delve into the show's dazzling success.
With the help of extracts from radio programmes as diverse as Go 4 It, Jo Whiley, PM, Newsbeat and The Now Show, she explores the run-up to the launch of Series 1 and follows the programme's progress right up to 2009, with the impending departure of David Tennant.
Featuring the voices of David Tennant, Catherine Tate, Christopher Eccleston, Kylie Minogue, Freema Agyeman, Russell T Davies and many others, this is an absorbing retrospective look at how Doctor Who returned to our screens to capture the hearts of millions of fans.