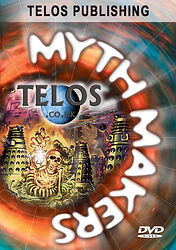 Cover blurb:
"A lot of this just comes out of having a passion for it... and you just want to do it!"
David J Howe
TELOS PUBLISHING was born out of DAVID J HOWE and STEPHEN JAMES WALKER's desire to start a publishing company to produce DOCTOR WHO related factual books.
Since the new millennium, TELOS has grown to become a well respected and successful company, producing a wide range of books covering crime, fantasy, science fiction and film/television.
We talk to DAVID and STEPHEN about the company's success and achievements plus their plans for the future. We also visit FANTASYCON to meet some of the authors published by TELOS, including, amongst others, PAUL FINCH, STEPHEN GALLAGHER, PAUL LEWIS, STEVE LOCKLEY and KIM NEWMAN.
This MYTH MAKERS is a visual treat, with a wide selection of artwork from the TELOS PUBLISHING archive! Not to be missed!
SPECIAL FEATURES
Biographies and Telos Publishing promotional video.