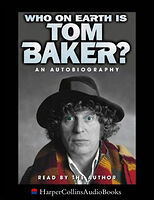 Note: Audio reading of Tom Baker's autobiography.
Cover blurb:
You won't have to hide behind the sofa while listening to this tape... Imagine a cross between Spike Milligan, Peter Ustinov and David Niven and you're some way to imagining the writings of Tom Baker.
After an Irish catholic childhood, God service, national Service and a spell in the Merchant Navy, Tom Baker became an actor. Widely experienced in film, theatre and on television, he is most well known, in sixty eight countries, for his portrayal as Doctor Who. To many, he is the ultimate Doctor Who.
Far exceeding the usual expectations of an actorly autobiography, Who on Earth is Tom Baker? is a richly coloured, startlingly wild black comedy. Tom Baker is the kind of man who could drink the old off-the-wagon Anthony Hopkins under the table and who now spends much of his leisure time mowing the grass around his own gravestone in the local churchyard. His memoirs are full of anarchic humour with surreal, ribald and revealing anecdotes.