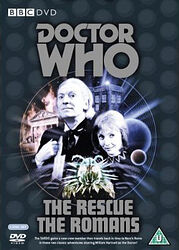 Edition:
UK (DVD)
Released:
February 2009

Publisher:
BBC Video
Format:
2 x DVD
Owned:
Buy:
Cover blurb:
The TARDIS gains a new crew member then travels back in time to Nero's Rome in these two classic adventures starring William Hartnell as the Doctor!
The cover blurbs on the individual DVDs inside the box set are as follows:
THE RESCUE:
When the TARDIS lands on the supposedly peaceful planet Dido at the end of the 25th century, the Doctor, Barbara and Ian discover a crashed spaceship waiting for help.
The only survivors have been murdered by natives apart from a young orphaned girl and a paralysed man. But who is the strange creature Koquillion that they are afraid of? And will they remain safe long enough to be rescued?
SPECIAL FEATURES
Commentary by William Russell (Ian Chesterton), Christopher Barry (Director) and Raymond Cusick (Designer), moderated by Toby Hadoke
Mounting The Rescue Cast and crew look back on the making of the story, featuring actors William Russell, Maureen O'Brien (Vicki) and Ray Barrett (Bennett)
Radio Times Billings Listings from Radio Times (PDF DVD-ROM)
Raymond Cusick's original design drawings (PDF DVD-ROM)
Photo Gallery
Production Information Subtitles
Coming Soon Trailer
Digitally remastered picture and sound quality
This story was originally broadcast on BBC1 between 2nd - 9th January 1965
THE ROMANS:
Italy, 64AD. Enjoying a rare holiday with his companions, the Doctor takes Vicki to visit Rome, where he is mistaken for the musician Maximus Pettulian. He finds himself obliged to perform for Nero, or risk incurring the Emperor's wrath...
In his absence, Ian and Barbara have been kidnapped from their villa. Separated and sold into slavery, they face a bleak future. Can they make their escape and find the Doctor before Rome is consumed by fire?
SPECIAL FEATURES
Commentary by William Russell (Ian Chesterton), Nick Evans (Didius), Barry Jackson (Ascaris) and Christopher Barry (Director), moderated by Toby Hadoke
What Has 'The Romans' Ever Done For Us? Actors, crew and historians look at both the reality and fantasy behind the story of The Romans
Roma Parva ('Little Rome') Christopher Barry demonstrates the use of a model of the set
Dennis Spooner — Wanna Write a Television Series? A look at writer Dennis Spooner's work on Doctor Who
Girls! Girls! Girls! — The 1960s An affectionate look back at the sixties Who-Girls
Blue Peter The team hold a Roman banquet in the studio
Radio Times Billings (PDF DVD-ROM)
Photo Gallery
Production Information Subtitles
Coming Soon Trailer
Digitally remastered picture and sound quality
This story was originally broadcast on BBC1 between 16th January — 6th February 1965