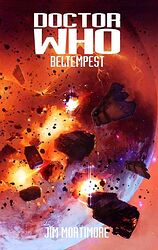 Edition:
UK (hardback)
Released:
September 2020

Publisher:
Cauldron Press
ISBN:
978-1-71665-424-4
Format:
hardback
Owned:
Buy:
Note: Revised and expanded edition, self-described by the author as an "intermix" (a term he explains fully in the dustjacket blurb). Only available to order direct from the author: email jimbo-original-who@hotmail.com for details.
Cover blurb:
"Doctor Who on acid. I recommend it, but I'd like to stick government warnings on the back cover." -Robert Smith
"The impossible is being shoved in our faces. Jim Mortimore is thinking big again." -Finn Clark
"Written with manic askewity." -Jason A Miller
"Awful, plain and simple. Reads like poetry penned by Stephen Hawking." -Peter Drew
"Tremendous physical intensity and sense of scope." -Rob Matthews
"A cornucopia of huge ideas that Doctor Who rarely has the audacity to explore. I have never read another book like this in any genre. I have a headache." -Joe Ford

"There is only one truth and that truth is endless and that truth is death."
The dying people of Belannia II see their sun, an ancient red dwarf close to death, cloaked in night for a month following a strange triple eclipse. When Bel is reborn as a younger, main sequence star, twenty-two worlds are given a second, impossible, lease of life.
Millennia later the Doctor and Sam Jones arrive in the Bel system to find all life is under threat from immense shockwaves, powerful enough to devastate entire planets, originating from within the sun.
While the time travellers attempt to help the survivors and ease the devastation, a religious suicide-cult leader begins to spread a new religion through Bel's system — and his word may prove even more dangerous than the cataclysmic forces bringing the sun to the brink of supernova...
Featuring over ten thousand words of new material, this book is a thorough rewrite; an intermediary stage between the 1998 original mix and the fully laundered Director's Cut yet to come. The author hopes it is a bit more fun and a bit less muddy. The author hopes that. But he can't promise...

The blurb inside the dustjacket flaps reads as follows:
So... I hear you laugh in the corner by the bass bins... just what exactly IS an "Intermix" anyway?
I guess you could think of it as a sort of 10" EP... somewhere between the radio-friendly 7" cut and the full-on 12" club mix, for anyone who likes to dance. I myself am not entirely built for dancing, so I decided that a (kinda) subtle nod to Star Trek might be a tad more on the apropro [sic] side. Either way, what you get in the box is a thoroughly revised version of the original manuscript, filtered for muppetry as far as a man with only one working brain can, with around ten thousand new words of new material dolloped in throughout, and a brave (though perhaps foolhardy) attempt to iron out the uneven structure which caused so much kerfuffle at the time.
In short this is the version I should have submitted to Virgin back in the day, but couldn't quite get it together in time to do.
While working on this as a patreon reward for Ross Hamilton (big shouts, Mr R!) a bucketload of ideas for expanding the text started to occur to me. I wrestled them all manfully into the Beltempest shitfile, and proceeded to cogitate while writing. In the end I decided there was enough material to do a proper Director's Cut once the pot had properly brewed.
I hadn't intended for Beltempest to be the next DC, but... That's life, folks! as Esther was wont to say. As usual this project surprised me. Stories do have a life of their own... sometimes, if you're very lucky, the sneaky wee buggars invite you along for the ride.
And so... it's time to stick yer helmet on. Something's brewing in the sun, man, and it ain't no ayahuasca.
Jim Mortimore
Somewhere in Space, August 2020

JIM MORTIMORE
is an award winning graphic designer and composer who turned to writing as a desperate ploy to avoid real work.
Beltempest is half way to becoming Jim's second Director's Cut, following the highly gnash-worthy Blood Heat. If you want to complain, offer lego, synths, therapy or (heaven forfend!) order books... you can reach Jim at jimbo-original-who@hotmail.com