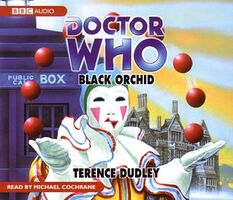 Description: Audio reading of Terence Dudley's 1986 novelisation.
Cover blurb:
Michael Cochrane reads this thrilling novelisation of a classic Doctor Who adventure
On a lazy June afternoon in 1925 the TARDIS materialises at the tiny railway station of Cranleigh Halt. Warmly welcomed by the local gentry, the time-travellers look forward to a well deserved rest from their adventures.
After a stunning performance at a friendly cricket match, the Doctor, together with Tegan, Adric and Nyssa, is invited to a splendid masked ball by Lady Cranleigh and her son, Charles.
But a dark menace haunts the secret corridors of Cranleigh Hall. And before the ball is over, the quiet summer will be shattered by the shocking discovery of a brutal murder.
Michael Cochrane, who played Charles Cranleigh in the original TV serial Black Orchid, reads Terence Dudley's complete and unabridged novelisation, first published by Target Books in 1986.
'BBC Audiobooks has chosen well with its books and has taken the right approach with its readers... they benefit from new music and sound effects'
Doctor Who Magazine