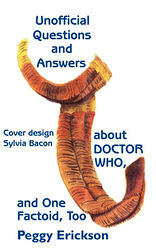 Note: You might think from reading the cover blurb that this was a published version of a college paper by a rather enthusiastic American student. In fact it's basically a self-published quiz book, containing over 1000 trivia questions about Doctor Who. (What grade Ms. Erickson received for her term paper is not recorded.)
You may not find it as amusing as I do, but this is possibly the only Doctor Who book to mention the cover designer's name prominently on the front cover — ironic given it's one of the ugliest/most amateurish covers of any Who book (no offence to Sylvia Bacon, wherever you are).
Cover blurb:
Where and When is Who? Intrigued? That was the title of my college freshman term paper. This book has questions and answers about Doctor Who, and a factoid about our galaxy. Hope you enjoy it.