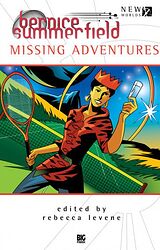 Description: Short story collection featuring ex-Doctor Who companion Bernice Summerfield, celebrating 15 years since the character was introduced in the 1992 novel Love and War.
Cover blurb:
One day she will bring down empires and decide the fate of the universe. One day she will be feared by the creatures of evil and revered wherever people have had just a little bit too much to drink.
But all that is yet to come...
This very special collection celebrates 15 years of Bernice Summerfield. It explores her early life and the events that shaped the archaeologist and space-adventuress we know today.
A circus offers solace for the loss of her father; boarding school will try anything to make her behave; and when the military catch up with runaway Benny, her freedom will cost her dearly...
Missing Adventures features 12 all-new stories, many of them by those who played a formative part in Benny's development, including Ben Aaronovitch, Andrew Cartmel, Peter Darvill-Evans and Andy Lane.
There's also a genuine puzzle to be solved — with a prize hidden somewhere in the UK!

Rebecca Levene has been a writer and editor for fifteen years. She's written a children's book about Captain Cook, several science fiction and horror novels and a Beginner's Guide to Poker. She was associate producer on the ITV1 drama Wild at Heart, story consultant on the Chinese soap opera Joy Luck Street, script writer on Family Affairs and Is Harry on the Boat? and part of the writing team for Channel 5's Swinging.

Contents:
Biology Lesson on Mal Oreille by Xanna Eve Chown
The Evacuation of Bernice Summerfield Considered as a Short Film by Terry Gilliam by Ben Aaronovitch
The Tunnels To Heaven by Andy Bodle
Benny and Louise by Cavan Scott and Mark Wright
Charged by John Binns
Prime Five by Jason Arnop
Home by Peter Darvill-Evans
The Slight Façade by Magnus Anderson
Bernice Summerfield and the Library of Books by Andrew Cartmel
Postcards From the Edge of Reason by Andy Owens
Blood On The Tracks by Andy Lane
Thirty Love by Eddie Robson