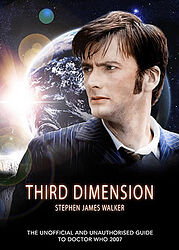 Edition:
UK (paperback)
Released:
November 2007

Publisher:
Telos
ISBN:
978-1-84583-016-8
Format:
paperback
Owned:
Buy:

| | | |
| --- | --- | --- |
| | | (Unable to fetch price) |
Cover blurb:
Third Dimension is a comprehensive episode guide to Series Three of the new Doctor Who, following the ongoing adventures of the Doctor (David Tennant) as he travels through space and time accompanied by his new companion Martha Jones (Freema Agyeman) and rejoined by his old friend Captain Jack Harkness (John Barrowman).
The full build-up and background are revealed, from the aftermath of Series Two and the departure of Rose Tyler (Billie Piper) right up to date, detailing all the major news stories, press releases, casting announcements and critical response.
The spotlight is then turned on each of the 13 episodes in turn, plus the Christmas special 'The Runaway Bride', with in-depth coverage, including all the facts and figures, behind-the-scenes details, press and fan reaction and detailed and insightful analysis.
The perfect way to relive the Doctor's encounters with the warlike Judoon, famed playwright William Shakespeare, the ancient Face of Boe, the sinister Dr Lazarus, the Daleks in New York, his Time Lord arch-enemy the Master ... and more!
Third Dimension is an essential read for all fans of the show and continues Telos' unrivalled coverage of Doctor Who.