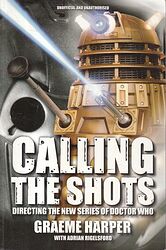 Cover blurb:
BEHIND THE SCENES ON DOCTOR WHO — FROM ONE OF THE SHOW'S LEADING DIRECTORS
Graeme Harper's association with Doctor Who began in the mid-1960s, and he directed some of its best-loved episodes in the 1980s. In 2005 he made a triumphant return to the series, directing David Tennant's Doctor in the acclaimed episodes Rise of the Cybermen, The Age of Steel, Army of Ghosts and Doomsday. The momentous events in these stories included the birth of the Cybermen, their subsequent confrontation with the Daleks and the departure of Rose, played by Billie Piper.
In 2006, Harper was entrusted with the episodes 42 and Utopia. The latter re-introduced the Doctor's arch-nemesis the Master, played by Sir Derek Jacobi and John Simm.
As the only director to have worked on both classic and new Doctor Who, Graeme Harper is uniquely qualified to reveal how the show's techniques have evolved. Calling the Shots is part production diary, part memoir, and brings an unparalleled insight into the making of a modern television drama.