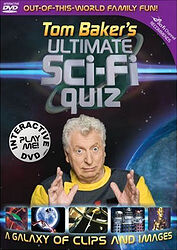 Cover blurb:
Let the legendary Tom Baker take you on an intergalactic voyage designed to test the outer reaches of your mind in this, the ultimate Sci-Fi quiz.
Navigate your way through fifteen super-stellar categories:
Literature
Robots
Aliens & Monsters
Crazy Science
Planets & Worlds
Earth in Peril
Amazing Craft
General Sci-Fi
The Early Years
The 1950s
The 1960s
The 1970s
The 1980s
The 1990s
The New Millenium
PACKED WITH GENUINE CLIPS!
The ultimate Sci-Fi Quiz spans over sixty years of Sci-Fi history, featuring a cosmos of classic and current TV series and films:
2001: A Space Odyssey • War of the Worlds • Forbidden Planet • Thunderbirds • Red Dwarf • Dr Who • Blake's 7 • Barbarella • The Hitchhiker's Guide To The Galaxy • Flash Gordon • The Thing...
Guaranteed to engage all Sci-Fi enthusiasts — and sure-fire family fun!