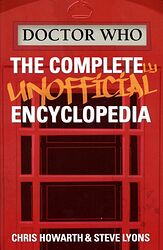 Note: Sequel to The Completely Useless Encyclopedia, this time focussing on the new series.
Cover blurb:
THE ONLY REFERENCE BOOK YOU'LL NEVER NEED

'Brilliantly amusing' —SFX
'An unqualified 10 out of 10' —Dreamwatch
'The single funniest book I've ever read' —Doctor Who Magazine
'I raised my eyes upwards, despairing that such inanities could ever reach print' —TV Zone
That's what they said about Doctor Who: The Completely Useless Encyclopedia. And now, just ten years later, it's back and less licensed than ever — with another decade's worth of pointless trivia about the unexpectedly-popular-again TV series.
Inside this all-new volume, you'll find:
The series' biggest Deus Ex Machinas
The silliest Doctor Who spin-offs... official or otherwise!
Brand new ways for fans to show themselves up using technology
No fantastic free gifts, but only one cover to collect
...and lots of other stuff for the obsessive scarf-wearer. Just don't let your non-fan friends see it; they wouldn't understand.