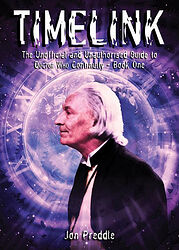 Edition:
UK (volume 1 paperback)
Title:
Timelink - The Unofficial and Unauthorised Guide to Doctor Who Continuity: Volume One
Released:
February 2011

Publisher:
Telos
ISBN:
978-1-84583-004-0
Format:
paperback
Owned:
Buy:
Note: This revised & expanded edition was originally announced with a 2006 launch date but delayed repeatedly. Unusually, the page count for this book is so large that it was printed as two volumes, released simultaneously but sold separately & each with their own ISBN number. (The 2nd volume is listed below). Volume 1 is approx. 600 pages in length and contains "detailed analysis of every aspect of the Doctor's lives, friends and foes". Meanwhile Volume 2 is approx 700 pages and contains "a complete and detailed timeline of every one of the Doctor's on-screen adventures from 1963 to 2009".
Cover blurb:
An in-depth exploration of the complex continuity of the world's longest running science fiction television programme, Doctor Who. Over fifteen years in the making, Timelink offers a different perspective on the history of the universe as told through the many adventures of the Doctor. Author Jon Preddle presents fresh theories and solutions to some of the many continuity anomalies and discrepancies in the series.
Volume One contains detailed analysis of every aspect of the Doctor's lives, friends and foes. Discover how to date the UNIT stories; what order the Dalek invasions of Earth took place; and how old the Doctor really is. The history of the Time Lords is put in context, and the history of space-flight is revealed.
This is a project that no self-respecting fan of Doctor Who can be without. The analysis encompasses the original series which ran from 1963 to 1989, the one-off Paul McGann TV Movie of 1996, the 2005 - 2009 Doctor Who revival helmed by Russell T Davies, as well as Torchwood and The Sarah Jane Adventures.
'Preddle's stamina, invention and clever observations have the grey matter firing — and somehow, he makes this beast readable... Almost endless, Timelink is the answer to everything you never thought you wanted to know.'
Vanessa Bishop, Doctor Who Magazine
From review of an earlier edition