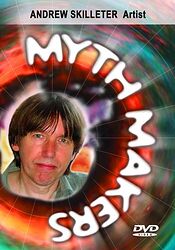 Cover blurb:
"I would maintain that there is no longer a career to be had as a dedicated illustrator."
ANDREW SKILLETER's professional involvement with DOCTOR WHO has spanned some 26 years.
He's probably best known for the many cover illustrations he has painted for Target, Virgin Books and BBC Video, but there is a much larger canon of work including books, prints and calendars.
In this MYTH MAKERS, we travel to ANDREW's home in Dorset to discuss how he became an artist and how his association with DOCTOR WHO came about.
We also find out about the many other areas his talent explores and the inspiration behind ANDREW's work. Lavishly illustrated with ANDREW's work, this is a MYTH MAKERS not to be missed!
To contact Andrew go to: www.andrewskilleter.com
SPECIAL FEATURES
Biography and Behind-the-Scenes Footage.