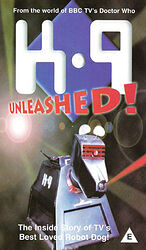 Edition:
UK (VHS)
Released:
November 2000

Publisher:
Reeltime Pictures
Format:
1 x VHS PAL
Owned:
Buy:
Cover blurb:
All you ever wanted to know about the world's favourite robot dog, but were afraid to ask!
"... recently voted third in the TV Top 100 Hall of Fame, the "Dr. Who" series was at it's [sic] height in the ratings when K9 joined the series ... at one point he almost eclipsed the Doctor in popularity ... this is the warts and all story behind the character ..."
Since film-making began a dog has always been the audience's best friend. Movie makers have often depended on a canine hero to do the business at the box office or on TV. Think of Lassie ... Rin Tin Tin ... or even Scooby Doo!
In 1977 the BBC followed the trend when it introduced a robotic canine — named K9! — into it's [sic] successful long running sci-fi series Doctor Who. Intended to last just 4 episodes, K9 stayed for over 3 years. After he left Doctor Who K9 even went on to star in his own spin-off show — K9 & Company).
Behind the scnes K9 caused nearly as many problems as a temperamental film star. His mechanical inner workings would often break down without warning, driving actors, directors and producers to despair. In this exclusive video learn the truth about K9 from those who designed him, operated him, acted with him and even sacked him!
FEATURING: LOUISE JAMESON (LEELA), ELISABETH SLADEN (SARAH JANE), TOM BAKER, JOHN LEESON & DAVID BRIERLEY (THE VOICES OF K9), ALONGSIDE MANY OTHER DR WHO STARS!
FEATURING EXCLUSIVE FILM AND VIDEO CLIPS INCLUDING AN ALL NEW CGI ANIMATION OF K9 VERSUS THE DREADED DALEKS... PLUS A LOOK AT K9'S NEW LOOK FOR THE 21ST CENTURY.
A MUST FOR ALL DR. WHO FANS AND LOVERS OF TV KITSCH!