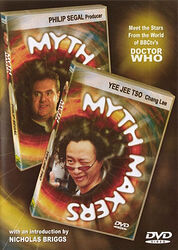 Note: DVD re-release of two interviews that were originally released separately on VHS: Myth Makers: Yee Jee Tso and Myth Makers: Philip Segal. Both interviews were subsequently re-released as part of The Doctors: The Paul McGann Years.
Cover blurb:
YEE JEE TSO — Chang Lee
"With the kind of challenges of making a story like this, applied to so many different audiences, everybody that worked on the movie did a phenomenal job."
YEE JEE TSO was cast in the role of CHANG LEE for the 1996 DOCTOR WHO movie, alongside SYLVESTER McCOY and PAUL McGANN as the seventh and eighth Doctor respectively.
In this MYTH MAKERS, YEE JEE reveals how he nearly lost the part by being late for his casting session. As an avid writer and director himself, he also gives a detailed account of the experience of shooting DOCTOR WHO in Vancouver, Canada!
What was it like working with two Doctors? Was Geoffrey Sax a good Director? These and many other questions are answered in this rare interview.
PHILIP SEGAL — Producer
"There were four companies involved in making this show and all four had a voice. I had to get notes and take meetings with all of them individually... they wouldn't do it together!"
PHILIP SEGAL's CV is a long and impressive one, we know — we've seen it! So what led this highly successful and talented American based Producer to take up the challenge of bringing DOCTOR WHO back to our screens in the 1990's?
In this unique MYTH MAKERS, PHILIP meets up with NICHOLAS BRIGGS in Los Angeles at the famous Gallifrey Convention (www.gallifreyone.com) where NICK interviews him on stage in front of a live audience!
For the first time ever, PHILIP reveals the true story behind the making of the DOCTOR WHO movie starring Paul McGann... and fills us in on what's been happening since.
SPECIAL FEATURES
Introduction by NICHOLAS BRIGGS and KEITH BARNFATHER.
Biography of all featured artists.