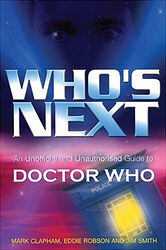 Cover blurb:
You may have caught the very first episode of Doctor Who in 1963, or only ever seen the repeats on cable TV; you may know every episode backwards, or just fondly remember watching one with the Daleks in. You may even be a complete newcomer, wondering what all the fuss is about. Whoever you are, this is the essential guide to the Doctor's universe.
The BBC describes Doctor Who as the most popular ongoing series ever made. Now, over forty years after the first episode aired, the cult series has returned to the small screen with a huge budget and with acclaimed writer/producer Russell T Davies at the helm. A new generation of viewers is ready to adopt Christopher Eccleston as 'their' Doctor, just as previous generations embraced William Hartnell, Jon Pertwee, Tom Baker or Peter Davison.
This unofficial guide, covering every aspect of Doctor Who broadcast to date, details not just the 700-plus episodes of the TV series (1993 to 1989) but also the radio serials, TV movie, charity specials and Internet-broadcast animated serials that have been transmitted while the television series has been off the air. Providing transmission dates, trivia, opinions and commentary, Who's Next will inform and entertain the series' newest viewers as well as providing long-term fans with a fresh and indispensable set of critical perspectives.