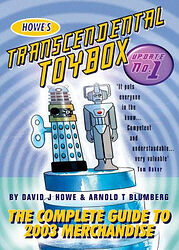 Note: This book lists all Doctor Who merchandise released during 2003, and is intended as a supplement to the main Transcendental Toybox volume. It has since been followed by additional Toybox updates covering subsequent years.
Cover blurb:
David J Howe and Arnold T Blumberg present the definitive collector's guide to Doctor Who merchandise. From the rare and obscure to the commonplace and disposable, every facet of Doctor Who's penetration into the marketplace is detailed.
This first update volume documents all the items released in the 40th anniversary year, 2003, and also contains updates to the main book, as well as market reports and comments from both the people who produce the merchandise and the people who sell it... Howe's Transcendental Toybox is both a fascinating tour through the many ways that Doctor Who has been presented and an entertaining guide to the world of Doctor Who collecting.
Product descriptions
Black and white photographs of the majority of items
Market reports from both the manufacturers and the sellers
Overview of 2003
The book covers Doctor Who merchandise around the world, including items released in America, New Zealand and Australia as well as the many UK-produced items.