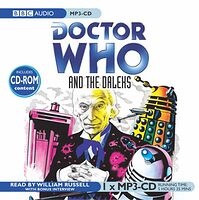 Note: MP3-CD, containing a reading of the novelisation Doctor Who and the Daleks. Also available on standard audio CD, as part of the Travels in Time and Space box set.
Cover blurb:
This is Doctor Who's first exciting adventure — with the Daleks!
Ian Chesterton and Barbara Wright travel with the mysterious Doctor Who and his granddaughter, Susan, to the planet of Skaro in the space-time machine, the TARDIS.
There they strive to save the peace-loving Thals from the evil intentions of the hideous Daleks. Can they succeed? And, what is more important, will they ever see their native Earth again?
William Russell, who created the role of Ian in the original television series of Doctor Who, reads David Whitaker's complete and unabridged novelisation, first published in hardback in 1964.
The book went on to spearhead the Target Books range of Doctor Who titles, and it is one of the best-loved novelisations to be based on the programme.
This MP3-CD edition also features William Russell's memories of recording the original Dalek serial, and of his time on Doctor Who generally.