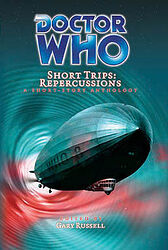 By:
Gary Russell (ed.)
Rating:
5.8 (26 votes) Vote here
Review:
None yet Add a review
Released:
August 2004

Publisher:
Big Finish
ISBN:
1-84435-048-7
Format:
hardback
Owned:
Buy:
Cover blurb:
The galaxies are awash with stories, myths and legends of the Doctor, the courageous Time Lord who rights wrongs and brings down the evil dictators.
But does the Doctor always get it right? In his efforts to save the smaller picture, is it possible that occasionally the bigger picture, the Web of Time itself, can be broken by his actions? If so, what can he do to repair it?
Repercussions features sixteen tales set on a strange airship taking its passengers on a trip to... who knows where? Amongst the people aboard is young adventuress Charley Pollard, just a few weeks into her life aboard the TARDIS alongside the Eighth Doctor, a man whose past, she will discover, she knows frighteningly little about. She encounters a diplomat trying to stop a war, a young man seemingly murdered by the Doctor, a tramp, a seismologist and a republican trying to save the life of his plague-stricken daughter. One thing they all have in common — an encounter with a strange alien visitor who seemed to help them but perhaps should have left them alone.
Learning their stories, understanding their grief, their anger or even their joy, Charley begins to see a new side to this enigmatic man she has chosen to travel the universe with. And she is forced to ask, will she one day also find herself aboard a strange airship, teeming with fellow travellers, all of whom seem to represent a danger to the Web of Time?
Repercussions is based upon an original idea by John Ainsworth and Gary Russell and is compiled and edited by Gary Russell, who is one of the producers of the Doctor Who audio adventures as well as the author of a number of Virgin and BBC Books Doctor Who novels.
Contents:
The Time Lord's Story by Iain McLaughlin and Claire Bartlett
The Ghost's Story by Trevor Baxendale
The Rag and Bone Man's Story by Colin Brake
The Seismologist's Story by Peter Anghelides
The Dead Man's Story by Andrew Frankham
The Inquisitor's Story by Shaun Lyon
The Gangster's Story by Jon de Burgh Miller
The Bushranger's Story by Sarah Groenewegen
The Schoolboy's Story by Trey Korte
The Juror's Story by Eddie Robson
The Farmer's Story by Todd Green
The Republican's Story by Andy Russell
The Assassin's Story by Andrew Collins
The Diplomat's Story by Kathryn Sullivan
The Steward's Story by Mark Michalowski
The Tramp's Story by Joe Lidster