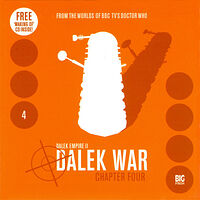 Note: Also contains a behind-the-scenes documentary and exclusive interviews with the cast and crew.
Cover blurb:
Astounding stories of the war against the outer-space robot people created by Terry Nation
Two thousand years ago, the galaxy was devastated by a great catastrophe. No one really knows what happened. Some say it was the work of the 'Dark One' or the 'Bringer Of Death'.
And in the ancient remains of a civilisation on the planet Velyshaa, a lonely outcast is uncovering evidence of who that terrible figure really was.
Could it be that Kalendorf's determination to rid the galaxy of the Daleks will bring about the destruction of everything? Indeed, can the Daleks ever be truly defeated...?
Full-cast audio action with explosive sound design and an original music score!