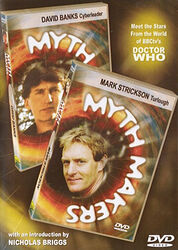 Note: DVD re-release of two interviews that were originally released separately on VHS: Myth Makers: Mark Strickson and Myth Makers: David Banks. The David Banks interview was later re-released as part of The Doctors: Monsters! and the Mark Strickson interview as part of The Doctors: The Peter Davison Years.
Cover blurb:
MARK STRICKSON — Turlough
"Turlough was a great idea... but Turlough had to be intrinsic to the plot to work."
When Turlough first appeared alongside PETER DAVISON's Doctor in MAWDRYN UNDEAD he was out to kill him — not the best start as a DOCTOR WHO assistant!
But over the next ten stories MARK STRICKSON managed to steer this most complicated of characters through an equally intricate series of storylines to become a firm favourite with fans.
Given MARK's ability to deal with challenges, it's lucky he's with NICHOLAS BRIGGS as they return to the location used for THE AWAKENING.
Because while chatting about MARK's career and his time in DOCTOR WHO they are pursued by an echo from the past — and it's getting closer!
DAVID BANKS — Cyberleader
"I remember actually going to Shepherds Bush and thinking, 'How should I read as a Cyberman? What do I remember of Cybermen...?' Peter Grimwade...he just thought I was tall enough!"
We travel to Brighton with NICHOLAS BRIGGS to catch up with DAVID BANKS, the man behind the Cyberleader mask. We find out how in 1982 DAVID set about popularising the Cybermen after their seven year absence from DOCTOR WHO.
Shot on location at the Theatre Royal, this MYTH MAKERS also gives a glimpse behind the scenes of DOCTOR WHO THE ULTIMATE ADVENTURE in which DAVID played KARL the mercenary leader. We find out about some of the problems that arise when you bring the famous Time Lord off the television screen and onto the stage.
SPECIAL FEATURES
Introduction by NICHOLAS BRIGGS and KEITH BARNFATHER.
Biography of both featured artists.