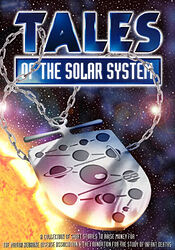 Description: Unofficial fan-produced Doctor Who short story anthology, in aid of charity.
Cover blurb:
From the scorched surface of Mercury to the forgotten worlds of Vulcan and Cassius, Tales of the Solar System brings together professional and fan Doctor Who writers in a selection of stories sending the Doctor and his friends to the many worlds of Earth's solar system.
A party to end all parties on one of Saturn's moons.
Adventure amongst the Nepotists of Neptune.
Talk shows and temporal paradoxes.
Daleks and diseases. Revolution. Murder.
There are a billion stories in the Solar System and these are only a few...
Edited by D. Paul Griggs, this collection is published to raise money for the Motor Neurone Disease Association and the Foundation for the Study of Infant Deaths
and features stories by
James Ambuehl, E.A. Blair, Ian J. Carter, Martin Day, John S. Drew, Helen Fayle, Sarah Hadley, Richard Jones, Paul Leonard, Paul Magrs, Jon de Burgh Miller, Lance Parkin, Mark Phippen & Leigh Hooper, James Potter and Gregg Smith.