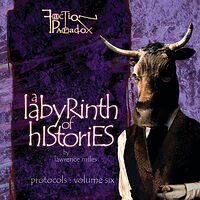 Description: Original audio drama featuring Doctor Who literary spinoff Faction Paradox.
Cover blurb:
PRIMER FOR THE SPIRAL POLITIC (POST-WAR EDITION)
6: MR SMITH
Era: Non-specific, sub-historical.
Technology: Irrelevant.
It's now acknowledged that the Great Houses were largely responsible for creating the current shape of history, not simply by interfering in major events (although they may have dabbled) but by engineering the entire framework of history as a single, definite structure. What's less well-known is just how easy it is to access that structure's foundations.
Before the War, it was usual for Great House installations to be linked to the Houses' "records library", buried in the framework beneath normal-time: though the War made these access-points a liability, many still exist, and encounters with the library's gaurdian aren't unknown...