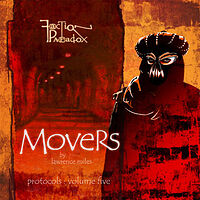 Description: Original audio drama featuring Doctor Who literary spinoff Faction Paradox.
Cover blurb:
PRIMER FOR THE SPIRAL POLITIC (POST-WAR EDITION)
5: THE BLOOD COTERIES
Era: Posthuman historical
Technology: Variable, occasionally time-active.
The demise of Earth was followed by a period in which there was, effectively, no such thing as the human species; a period in which humanity suddenly found itself released from its heritage, with genetic manipulation and vast tracts of space separating the survivors from everything they'd once been.
Many "posthuman" societies inevitably became glorious, grotesque Princedoms, and none more so than those of the Blood Coteries who — like the Medici and Borgia families of antiquity — commissioned the greatest art and culture of their age even as they conducted unimaginable vendettas and poisoned their potential rivals...