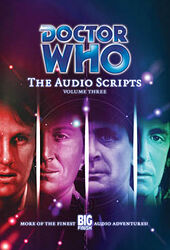 Cover blurb:
Since 1999, Big Finish Productions have produced regular, fully-licensed ongoing audio adventures for the Doctor and his companions on CD. Each four-part story stars members of the original Doctor Who cast in brand-new adventures through time and space.
Presented in this book are the original scripts for four of Big Finish's most popular stories.
Representing the Fifth Doctor adventures, starring Peter Davison, comes Spare Parts, written by Marc Platt and focussing on the early days of the Doctor's old foes, the Cybermen.
Colin Baker featured in Nicholas Pegg's The Spectre of Lanyon Moor, featuring the long-awaited first meeting between the Sixth Doctor and Brigadier Lethbridge-Stewart as played by Nicholas Courtney.
From the Seventh Doctor run, with Sylvester McCoy, is The Rapture by Joseph Lidster, set around the hedonistic clublands of Ibiza.
Rounding this collection off is The Chimes of Midnight, an eerie thriller featuring the Eighth Doctor and Charley penned by Robert Shearman.
This collection also features a number of deleted scenes, observations by the writers and directors, script annotations, alternative episode scripts, original outlines and other features!