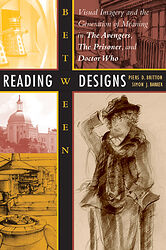 Edition:
US (paperback)
Released:
June 2003

Publisher:
University of Texas Press
ISBN:
0-292-70927-7
Format:
paperback
Owned:
Buy:
Cover blurb:
"The power to influence our concept of style lies in the hands of designers in television. Most people today can recognize 'a look' that a character projects. Steed and Emma Peel [of The Avengers] were the first to convey 'a look,' and their designers should be saluted. At the heart of this book lies the story of how the look came about."
— MADELINE ANN KOZLOWSKI,
Professor of Drama, University of California, Irvine, and Emmy Award-winning costume designer for Pryor's Place

From the alien worlds of Star Trek to the realistic operating room of ER, the design of sets and costumes contributes not only to the look and mood of television shows, but even more importantly to the creation of memorable characters. Yet, until now, this crucial aspect of television creativity has received little critical attention, despite the ongoing interest in production design within the closely allied discipline of film studies.
In this book, Piers Britton and Simon Barker offer a first analytical study of scenic and costume design for television drama series. They focus on three enduringly popular series of the 1960s — The Avengers, The Prisoner, and Doctor Who — and discuss such topics as the sartorial image of Steed in The Avengers, the juxtaposition of picturesque and fascistic architecture in The Prisoner, and the evolution of the high-tech interior of Doctor Who's TARDIS. Interviews with the series' original designers and reproductions of their original drawings complement the authors' analysis, which sheds new light on a variety of issues, from the discourse of fashion to that of the heritage industry, notions of "Pop" and retro, and the cultural preoccupation with realism and virtual reality.
PIERS D. BRITTON holds a Ph.D. in art history from the University of Manchester. He is currently Assistant Professor of Art History at the University of Redlands in Redlands, California. SIMON J. BARKER holds an M.A. in English from the University of Connecticut. He is currently an independent scholar of media studies in Mystic, Connecticut.