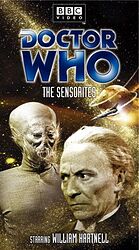 Note: This title is only available separately in the US. In the UK and Australia it was released as part of the First Doctor Collection in 2002.
Cover blurb:
The TARDIS arrives in a lifeless spaceship. The Doctor, Ian, Barbara and Susan are shocked to find the bodies of the crew slumped over their stations. Yet the crewmembers are far from dead — they are under some sort of mental attack that keeps them prisoners in space.
The ship is trapped in orbit around the Sense-Sphere, home world of the alien Sensorites. The Doctor and his companions are warned to leave, but before they can do so, the TARDIS is sabotaged, and its lock is stolen.
Using telepathic powers, the Sensorites have managed to keep the human visitors from exploiting the mineral wealth of their world. Now the TARDIS crewmembers also find themselves subject to the Sensorites and their mental powers.