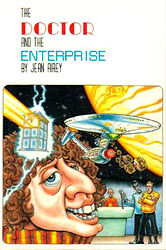 Edition:
US (3rd paperback)
Released:
October 1989

Publisher:
Pioneer
ISBN:
1-55698-218-6
Format:
paperback
Owned:
Buy:

| | | |
| --- | --- | --- |
| | | (Unable to fetch price) |
Note: This edition of the story was published without the author's permission and drastically re-edited from the original. In particular, to avoid infringing BBC and Paramount copyrights, many of the character names from the original were replaced with references to The Wizard of Oz and other out-of-copyright fiction. Spock is now "The Scientist" and is a Wizard from the planet Oz, the Daleks are renamed "Tin Woodmen", the Doctor is from Narnia rather than Gallifrey, etc. etc.
Cover blurb:
Three universes in imaginative collision — with delightfully funny results. An underground classic, this tongue-in-cheek parody is an affectionate tribute by a fan of both Star Trek and Doctor Who who is also a professional writer. This cult favorite has already won thousands of fans in small editions. It is newly illustrated for the current edition.
Take a Moebius trip into adventure as The Doctor and the crew of the Enterprise encounter the Wicked Witches and the Tin Woodmen in search of the Ruby Slippers with which to power their starship.
Chuckle as the Doctor and the Wizard of Oz join minds with those unforgettable words, "Hello, anybody home...."