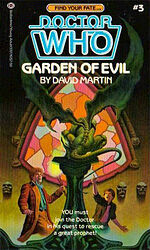 Edition:
US (paperback)
Title:
Find Your Fate: Garden of Evil
Released:
September 1986

Publisher:
Ballantine
ISBN:
0-345-33226-1
Format:
paperback
Owned:
Buy:
Cover blurb:
Famine threatens every intelligent life form in the universe. The Doctor needs your special powers to combat the forces of the GARDEN OF EVIL.
Persecuted for his belief that even robots and androids have souls, the scientist-prophet Ellis has led his followers in a great exodus across the cosmos to find the gift of life.
But now Ellis is missing, betrayed by one of his followers, the maker who has stolen the secret of Ellis's greatest discovery. He plans to use its power to rid the universe of life and replace it with machines obedient to his evil will.
Unless you and the Doctor can find Ellis, the maker will win. Your quest is full of peril. To succeed you have to make the right decisions as you FIND YOUR FATE.