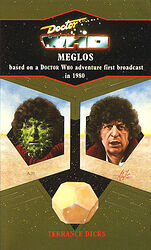 The first print adaptation of a Doctor Who television story (Doctor Who in an Exciting Adventure with the Daleks by David Whitaker) was released in 1964 by Frederick Muller Publishing. In 1973, Target Books, a division of the W.H. Allen publishing house, secured rights to reprint this and two other 60s novels, and thereafter started commissioning and publishing new Who novelisations, beginning a successful range that would continue for over 20 years and see more than 13 million books sold worldwide.
In the late 80s, Target/W.H. Allen were taken over by Virgin Publishing, but the release of new novelisations (and reprinting of old ones) continued until the supply of available "classic series" stories finally ran dry in 1994.
The following is a list of all 156 classic series novelisations, numbered as per their order in the "Doctor Who Library" (a numbering scheme devised in the 80s). Many of the books have been reprinted several times over the years, and therefore exist in a variety of different editions, cover designs, and even languages (some being released as far afield as Brazil, Turkey and Japan). An excellent resource containing even more details of each book's different guises is Tim Neal's On Target site.
There are a number of other TV episode adaptations that also exist, but are not listed on this page since they weren't part of the numbered "Doctor Who Library" range (i.e. not published by Target/W.H. Allen/Virgin). These are as follows:
Final note: Several of the early novelisations have different titles from the TV story they were based on — for example, Doctor Who and the Auton Invasion is an adaptation of Spearhead From Space. In cases like this, the original TV title is noted in brackets after the title.

| | | |
| --- | --- | --- |
| | | |
No:
Title:
By:
Dr:
Edition:
Date:
Publisher:
ISBN:
Owned:
Rating:
Reviews:
1
The Abominable Snowmen
Terrance Dicks
2nd
UK 1st paperback
Nov 1974
Target
0-426-10583-4
7.7
Turkey paperback
Apr 1975
Remzi Kitabevi
None
UK 2nd paperback
Mar 1978
Target
0-426-11455-8
UK 3rd paperback
Jan 1983
Target
0-426-10583-4
Portugal paperback
Jan 1983
Editorial Presença
None
UK hardback
Jan 1985
WH Allen
0-491-03660-4
France paperback
Aug 1987
Éditions Garancière
2-7340-0226-4
UK 4th paperback
Jul 2011
BBC
978-1-84990-192-5
2
The Android Invasion
Terrance Dicks
4th
UK paperback
Nov 1978
Target
0-426-20037-3
4.1
None
UK hardback
Nov 1978
WH Allen
0-491-02026-0
US paperback
Jan 1980
Pinnacle
0-523-40641-X
US 2nd paperback
Jan 1981
Pinnacle
0-523-41619-9
US 3rd paperback
Jan 1983
Pinnacle
0-523-42506-6
US hardback
Jun 1984
Aeonian
0-84880-150-4
US 4th paperback
Nov 1989
Pinnacle
1-55817-287-4
3
The Androids of Tara
Terrance Dicks
4th
UK paperback
Apr 1980
Target
0-426-20108-6
3.7
None
UK hardback
Apr 1980
WH Allen
0-491-02651-X
4
The Ark in Space
Ian Marter
4th
UK hardback
Apr 1977
Wingate
0-85523-191-2
8.1
UK 1st paperback
May 1977
Target
0-426-11631-3
UK 2nd paperback
May 1991
Target
0-426-11631-3
UK 3rd paperback
May 2012
BBC Books
978-1-84990-476-6
5
The Armageddon Factor
Terrance Dicks
4th
UK paperback
Jun 1980
Target
0-426-20104-3
4.1
None
UK hardback
Jun 1980
WH Allen
0-491-02660-9
6
The Auton Invasion (Spearhead from Space)
Terrance Dicks
3rd
UK 1st paperback
Jan 1974
Target
0-426-10313-0
8.5
UK hardback
Jan 1974
Allan Wingate
0-85523-035-5
Netherlands paperback
Dec 1974
Unieboek B.V. Bussum
90-269-8105-8
Turkey paperback
Jun 1975
Remzi Kitabevi
None
Finland hardback
Jan 1976
Weilin & Göös
951-35-1313-0
UK 2nd paperback
Aug 1978
Target
0-426-11295-4
Japan paperback
Apr 1980
Hayakawa Bunko
Unknown
UK 2nd hardback
Nov 1981
WH Allen
0-491-02895-4
UK 3rd paperback
Jan 1982
Target
0-426-11295-4
Portugal paperback
Jan 1983
Editorial Presença
None
UK 4th paperback
Mar 1991
Target
0-426-11295-4
UK 5th paperback
Jul 2011
Unknown
978-1-84990-193-2
7
The Brain of Morbius
Terrance Dicks
4th
UK 1st paperback
Jun 1977
Target
0-426-11674-7
6.5
None
UK hardback
Jun 1977
Wingate
0-85523-201-3
France paperback
Jun 1987
Éditions Garancière
2-7340-0219-1
UK 2nd paperback
Jan 1991
Target
0-426-11674-7
8
Carnival of Monsters
Terrance Dicks
3rd
UK 1st paperback
Jan 1977
Target
0-426-11025-0
5.7
None
UK hardback
Jan 1977
Allan Wingate
0-85523-151-3
UK 2nd hardback
Dec 1977
WH Allen
0-491-02114-3
UK 2nd paperback
May 1993
Target
0-426-11025-0
9
The Cave-Monsters (The Silurians)
Malcolm Hulke
3rd
UK 1st paperback
Jan 1974
Target
0-426-10292-4
8.6
UK hardback
Feb 1974
Allan Wingate
0-85523-036-3
Netherlands paperback
Dec 1974
Unieboek B.V. Bussum
90-269-8106-6
Finland hardback
Jan 1976
Weilin & Göös
951-35-1312-2
UK 2nd paperback
Jan 1979
Target
0-426-11471-X
Japan paperback
May 1980
Hayakawa Bunko
Unknown
Portugal paperback
Jan 1983
Editorial Presença
None
UK 3rd paperback
Aug 1992
Target
0-426-20382-8
UK 4th paperback
Jul 2011
BBC
978-1-84990-194-9
10
The Claws of Axos
Terrance Dicks
3rd
UK 1st paperback
Apr 1977
Target
0-426-11703-4
5
UK hardback
Apr 1977
Allan Wingate
0-85523-181-5
UK 2nd paperback
Jun 1979
Target
0-426-11703-4
11
The Creature from the Pit
David Fisher
4th
UK paperback
Jan 1981
Target
0-426-20123-X
4.6
None
UK hardback
Jan 1981
WH Allen
0-491-02991-8
12
The Crusaders (The Crusade)
David Whitaker
1st
UK hardback
Sep 1965
Frederick Muller
None
8.9
UK 1st paperback
Jan 1967
Dragon
0-411-80670-X
UK 2nd paperback
May 1973
Target
0-426-10137-5
Netherlands paperback
Dec 1974
Unieboek B.V. Bussum
90-269-8101-5
UK 3rd paperback
Jan 1975
Target
0-426-10671-7
UK 2nd hardback
Oct 1975
White Lion
0-85686-162-6
UK 4th paperback
May 1979
Target
0-426-11316-0
Portugal paperback
Jan 1983
Editorial Presença
None
UK 5th paperback
Oct 1983
Target
0-426-11316-0
UK 3rd hardback
Jan 1985
WH Allen
0-491-03670-1
France paperback
Feb 1987
Éditions Garancière
2-7340-0202-7
UK 6th paperback
Jul 2011
BBC
978-1-84990-190-1
13
The Curse of Peladon
Brian Hayles
3rd
UK 1st paperback
Jan 1975
Target
0-426-10452-8
7.8
None
UK 2nd paperback
Jul 1979
Target
0-426-11084-6
UK hardback
Jul 1980
WH Allen
0-491-02783-4
UK 3rd paperback
Jul 1980
Target
0-426-11498-1
UK 4th paperback
Jun 1992
Target
0-426-11498-1
14
The Cybermen (The Moonbase)
Gerry Davis
2nd
UK 1st paperback
Feb 1975
Target
0-426-10575-3
7.7
Turkey paperback
Jun 1975
Remzi Kitabevi
None
UK 2nd paperback
Aug 1978
Target
0-426-10575-3
UK 3rd paperback
Jul 1981
Target
0-426-11463-9
UK hardback
Jul 1981
WH Allen
0-491-02915-2
UK 4th paperback
Jul 2011
BBC
978-1-84990-191-8
15
The Daemons
Barry Letts
3rd
UK 1st paperback
Oct 1974
Target
0-426-10444-7
9.3
None
Netherlands paperback
Dec 1974
Unieboek B.V. Bussum
90-269-8109-0
UK 2nd paperback
Jan 1980
Target
0-426-11332-2
UK hardback
Jan 1982
WH Allen
0-491-02687-0
Portugal paperback
Jan 1983
Editorial Presença
None
UK Classics paperback
Mar 1989
Star
0-352-32382-5
UK 3rd paperback
Oct 1993
Target
0-426-11332-2
16
The Daleks
David Whitaker
1st
UK hardback
Nov 1964
Frederick Muller
None
8.5
UK 1st paperback
Oct 1965
Armada
None
Netherlands hardback
Jan 1966
Uitgeversmij
None
US paperback
Jul 1967
Avon
None
UK 2nd paperback
May 1973
Target
0-426-10110-3
UK 3rd paperback
Oct 1974
Target
0-426-10612-1
Netherlands paperback
Dec 1974
Unieboek B.V. Bussum
90-269-8102-3
Turkey paperback
Apr 1975
Remzi Kitabevi
None
UK 2nd hardback
Jun 1975
White Lion
0-85686-172-3
UK 4th paperback
Jan 1977
Target
0-426-10110-3
Japan paperback
Mar 1980
Hayakawa Bunko
Unknown
Portugal paperback
Jan 1983
Editorial Presença
None
France paperback
Jan 1987
Éditions Garancière
2-7340-0204-3
Germany paperback
Jul 1989
Goldmann
3-442-23611-8
UK 5th paperback
Jan 1992
Target
0-426-10110-3
UK 6th paperback
Jul 2011
BBC Books
978-1-84990-195-6
17
The Dalek Invasion of Earth
Terrance Dicks
1st
UK hardback
Mar 1977
Allan Wingate
0-85523-171-8
4.5
None
UK 1st paperback
Mar 1977
Target
0-426-11244-X
UK 2nd hardback
Jan 1978
WH Allen
0-491-02124-0
Germany paperback
Jan 1981
Schneider-Buch
3-505-07302-4
France paperback
May 1987
Éditions Garancière
2-7340-0203-5
UK Classics paperback
Aug 1988
Star
0-352-32264-0
Germany 2nd paperback
Sep 1989
Goldmann
3-442-23612-6
UK 2nd paperback
Aug 1990
Target
0-426-11244-X
18
The Day of the Daleks
Terrance Dicks
3rd
UK 1st paperback
Apr 1974
Target
0-426-10380-7
8.8
Netherlands paperback
Dec 1974
Unieboek B.V. Bussum
90-269-8108-2
Brazil paperback
Jan 1975
Global Editoria
Unknown
Turkey paperback
Jun 1975
Remzi Kitabevi
None
UK 2nd paperback
Jan 1976
Target
0-426-10380-7
US hardback
Jan 1978
Aeonian
0-84880-151-2
US paperback
Apr 1979
Pinnacle
0-523-40565-0
Japan paperback
Aug 1980
Hayakawa Bunko
Unknown
US 2nd paperback
Jan 1981
Pinnacle
0-523-41986-4
UK hardback
Aug 1981
WH Allen
0-491-02975-6
UK 3rd paperback
Jan 1982
Target
0-426-10380-7
Portugal paperback
Jan 1983
Editorial Presença
None
US 3rd paperback
Jan 1983
Pinnacle
0-523-42496-5
US 4th paperback
Jan 1989
Pinnacle
1-55817-188-6
UK 4th paperback
Apr 1991
Target
0-426-10380-7
Poland paperback
Jan 1994
Empire
83-86126-04-3
UK 5th paperback
May 2012
BBC Books
978-1-84990-473-5
19
The Deadly Assassin
Terrance Dicks
4th
UK paperback
Oct 1977
Target
0-426-11965-7
5.5
UK hardback
Oct 1977
WH Allen
0-85523-120-3
20
Death to the Daleks
Terrance Dicks
3rd
UK 1st paperback
Jul 1978
Target
0-426-20042-X
5.1
None
UK hardback
Jul 1978
WH Allen
0-491-02433-9
Germany paperback
Mar 1990
Goldmann
3-442-23623-1
UK 2nd paperback
Apr 1991
Target
0-426-20042-X
21
Destiny of the Daleks
Terrance Dicks
4th
UK 1st paperback
Nov 1979
Target
0-426-20096-9
4.1
None
UK hardback
Nov 1979
WH Allen
0-491-02640-4
Germany paperback
Jul 1990
Goldmann
3-442-23625-8
UK 2nd paperback
Jul 1992
Target
0-426-20096-9
22
The Dinosaur Invasion (Invasion of the Dinosaurs)
Malcolm Hulke
3rd
UK 1st paperback
Feb 1976
Target
0-426-10874-4
7
None
UK hardback
Feb 1976
Allan Wingate
0-85523-061-4
UK 2nd paperback
Jun 1978
Target
0-426-10874-4
US paperback
May 1979
Pinnacle
0-523-40606-1
US 2nd paperback
Jan 1981
Pinnacle
0-523-41613-X
US 3rd paperback
Jan 1983
Pinnacle
0-523-42498-1
US 4th paperback
Jan 1989
Pinnacle
1-55817-190-8
UK 3rd paperback
Nov 1993
Target
0-426-10874-4
23
The Doomsday Weapon (Colony in Space)
Malcolm Hulke
3rd
UK 1st paperback
Apr 1974
Target
0-426-10372-6
8.6
None
Netherlands paperback
Dec 1974
Unieboek B.V. Bussum
90-269-8107-4
Turkey paperback
Jun 1975
Remzi Kitabevi
None
US paperback
Apr 1979
Pinnacle
0-523-40566-9
UK 2nd paperback
Aug 1979
Target
0-426-10372-6
Japan paperback
Jul 1980
Hayakawa Bunko
Unknown
US 2nd paperback
Jan 1981
Pinnacle
0-523-42005-6
UK hardback
Mar 1982
WH Allen
0-491-02707-9
Portugal paperback
Jan 1983
Editorial Presença
None
US 3rd paperback
Jan 1983
Pinnacle
0-523-42497-3
US 4th paperback
Jan 1989
Pinnacle
1-55817-189-4
24
The Enemy of the World
Ian Marter
2nd
UK hardback
Mar 1981
WH Allen
0-491-02972-1
5.8
UK 1st paperback
Apr 1981
Target
0-426-20126-4
UK 2nd paperback
May 1993
Target
0-426-20126-4
25
The Face of Evil
Terrance Dicks
4th
UK 1st paperback
Jan 1978
Target
0-426-20006-3
4.4
None
UK hardback
Jan 1978
WH Allen
0-491-02214-X
UK Classics paperback
May 1989
Star
0-352-32417-1
UK 2nd paperback
Apr 1993
Target
0-426-20006-3
26
Full Circle
Andrew Smith
4th
UK paperback
Sep 1982
Target
0-426-20150-7
6.8
None
UK hardback
Sep 1982
WH Allen
0-491-02738-9
27
Genesis of the Daleks
Terrance Dicks
4th
UK 1st paperback
Jul 1976
Target
0-426-11260-1
4.7
UK hardback
Jul 1976
Wingate
0-85523-072-X
US paperback
May 1979
Pinnacle
0-523-40608-8
US 2nd paperback
Jan 1981
Pinnacle
0-523-41973-2
US 3rd paperback
Jan 1983
Pinnacle
0-523-42361-6
US 4th paperback
Jan 1989
Pinnacle
1-55817-191-6
UK 2nd paperback
Sep 1991
Target
0-426-11260-1
28
The Giant Robot (Robot)
Terrance Dicks
4th
UK 1st paperback
Mar 1975
Target
0-426-10858-2
5.8
None
UK 2nd paperback
Apr 1979
Target
0-426-11279-2
US hardback
Jun 1980
Aeonian
0-84880-153-9
UK hardback
Apr 1986
WH Allen
0-491-03663-9
UK 3rd paperback
May 1992
Target
0-426-20371-2
29
The Green Death
Malcolm Hulke
3rd
UK 1st paperback
Aug 1975
Target
0-426-10647-4
6.8
UK 2nd paperback
Mar 1979
Target
0-426-11543-0
UK hardback
Apr 1981
WH Allen
0-491-02874-1
30
The Hand of Fear
Terrance Dicks
4th
UK paperback
Jan 1979
Target
0-426-20033-0
4.6
None
UK hardback
Jan 1979
WH Allen
0-491-02256-5
31
The Horns of Nimon
Terrance Dicks
4th
UK paperback
Oct 1980
Target
0-426-20131-0
4.2
None
UK hardback
Oct 1980
WH Allen
0-491-02278-6
32
Horror of Fang Rock
Terrance Dicks
4th
UK paperback
Mar 1978
Target
0-426-20009-8
5.7
UK hardback
Mar 1978
WH Allen
0-491-02252-2
33
The Ice Warriors
Brian Hayles
2nd
UK 1st hardback
Mar 1976
Allan Wingate
0-85523-066-5
6.7
UK 1st paperback
Mar 1976
Target
0-426-10866-3
UK 2nd hardback
Jul 1978
WH Allen
0-491-02174-7
UK 2nd paperback
May 2012
BBC Books
978-1-84990-477-3
34
Image of the Fendahl
Terrance Dicks
4th
UK paperback
Jul 1979
Target
0-426-20077-2
4.4
None
UK hardback
Jul 1979
WH Allen
0-491-02127-5
35
The Invasion of Time
Terrance Dicks
4th
UK paperback
Feb 1980
Target
0-426-20093-4
4.9
None
UK hardback
Feb 1980
WH Allen
0-491-02439-8
36
The Invisible Enemy
Terrance Dicks
4th
UK paperback
Mar 1979
Target
0-426-20054-3
4
None
UK hardback
Mar 1979
WH Allen
0-491-02437-1
37
The Keeper of Traken
Terrance Dicks
4th
UK 1st paperback
May 1982
Target
0-426-20148-5
5
None
UK hardback
May 1982
WH Allen
0-491-02717-6
UK 2nd paperback
Jun 1993
Target
0-426-20148-5
38
The Keys of Marinus
Philip Hinchcliffe
1st
UK paperback
Aug 1980
Target
0-426-20125-6
4.2
UK hardback
Aug 1980
WH Allen
0-491-02921-7
39
The Leisure Hive
David Fisher
4th
UK 1st paperback
Jul 1982
Target
0-426-20147-7
4.8
None
UK hardback
Jul 1982
WH Allen
0-491-02727-3
UK 2nd paperback
Oct 1993
Target
0-426-20147-7
40
The Loch Ness Monster (Terror of the Zygons)
Terrance Dicks
4th
UK 1st paperback
Jan 1976
Target
0-426-11041-2
5.9
None
UK hardback
Jan 1976
Wingate
0-85523-054-1
US paperback
Jun 1979
Pinnacle
0-523-40609-6
US 2nd paperback
Jan 1981
Pinnacle
0-523-41791-8
US 3rd paperback
Apr 1983
Pinnacle
0-523-42502-3
US hardback
Jun 1986
Aeonian
0-84880-155-5
US 4th paperback
Jan 1989
Pinnacle
1-55817-193-2
UK 2nd paperback
Mar 1993
Target
0-426-20391-7
UK 3rd paperback
May 2012
BBC Books
978-1-84990-475-9
41
Logopolis
Christopher H. Bidmead
4th
UK 1st paperback
Oct 1982
Target
0-426-20149-3
5.3
None
UK hardback
Oct 1982
WH Allen
0-491-02857-1
UK 2nd paperback
Dec 1991
Target
0-426-20149-3
42
The Masque of Mandragora
Philip Hinchcliffe
4th
UK 1st paperback
Dec 1977
Target
0-426-11893-6
5
UK hardback
Jan 1978
WH Allen
0-491-02272-7
US paperback
Nov 1979
Pinnacle
0-523-40640-1
US 2nd paperback
Jan 1981
Pinnacle
0-523-41975-9
US 3rd paperback
Jan 1983
Pinnacle
0-523-42505-8
France paperback
Jun 1987
Éditions Garancière
2-7340-0218-3
US 4th paperback
Jun 1989
Pinnacle
1-55817-224-6
UK 2nd paperback
Sep 1991
Target
0-426-11893-6
43
The Monster of Peladon
Terrance Dicks
3rd
UK 1st paperback
Dec 1980
Target
0-426-20132-9
4.4
None
UK hardback
Dec 1980
WH Allen
0-491-02823-7
UK 2nd paperback
Jun 1992
Target
0-426-20132-9
44
The Mutants
Terrance Dicks
3rd
UK paperback
Sep 1977
Target
0-426-11690-9
4.5
None
UK hardback
Oct 1977
Allan Wingate
0-85523-471-7
45
Nightmare of Eden
Terrance Dicks
4th
UK paperback
Aug 1980
Target
0-426-20130-2
3.8
None
UK hardback
Aug 1980
WH Allen
0-491-02118-6
46
Planet of the Daleks
Terrance Dicks
3rd
UK hardback
Sep 1976
Allan Wingate
0-85523-076-2
5.5
None
UK 1st paperback
Oct 1976
Target
0-426-11252-0
Germany paperback
Jan 1980
Schneider-Buch
3-505-07254-0
Germany 2nd paperback
Dec 1989
Goldmann
3-442-23622-3
UK 2nd paperback
Jul 1992
Target
0-426-11252-0
47
Planet of Evil
Terrance Dicks
4th
UK hardback
Jul 1977
Wingate
0-85523-231-5
4.3
None
UK 1st paperback
Aug 1977
Target
0-426-11682-8
UK 2nd paperback
Jan 1982
Target
0-426-11682-8
48
Planet of the Spiders
Terrance Dicks
3rd
UK 1st paperback
Oct 1975
Target
0-426-10655-5
6.1
None
UK hardback
Oct 1975
Allan Wingate
0-85523-052-5
UK 2nd paperback
Sep 1978
Target
0-426-10655-5
UK 3rd paperback
Aug 1991
Target
0-426-10655-5
49
The Power of Kroll
Terrance Dicks
4th
UK paperback
May 1980
Target
0-426-20101-9
4
None
UK hardback
May 1980
WH Allen
0-491-02721-4
50
Pyramids of Mars
Terrance Dicks
4th
UK 1st paperback
Dec 1976
Target
0-426-11666-6
5.9
None
UK hardback
Jan 1977
Wingate
0-85523-141-6
UK 2nd hardback
Jan 1978
WH Allen
0-491-02094-5
UK 2nd paperback
Jan 1982
Target
0-426-11666-6
UK 3rd paperback
Mar 1993
Target
0-426-11666-6
51
Revenge of the Cybermen
Terrance Dicks
4th
UK 1st paperback
May 1976
Target
0-426-10997-X
5.6
None
UK hardback
May 1976
Wingate
0-85523-071-1
US paperback
Jun 1979
Pinnacle
0-523-40611-8
US 2nd paperback
Jan 1981
Pinnacle
0-523-41615-6
US 3rd paperback
Jan 1983
Pinnacle
0-523-42501-5
US hardback
Jan 1986
Aeonian
0-84880-156-3
US 4th paperback
Jan 1989
Pinnacle
1-55817-192-4
UK 2nd paperback
May 1991
Target
0-426-10997-X
Poland paperback
Jan 1994
Empire
83-86126-05-1
52
The Ribos Operation
Ian Marter
4th
UK paperback
Dec 1979
Target
0-426-20092-6
5.3
None
UK hardback
Dec 1979
WH Allen
0-491-02429-0
53
The Robots of Death
Terrance Dicks
4th
UK 1st paperback
May 1979
Target
0-426-20061-6
4.9
None
UK hardback
May 1979
WH Allen
0-491-02436-3
UK 2nd paperback
Feb 1994
Target
0-426-20061-6
54
The Sea-Devils
Malcolm Hulke
3rd
UK 1st paperback
Oct 1974
Target
0-426-10516-8
7
UK 2nd paperback
Apr 1979
Target
0-426-11308-X
UK hardback
Jun 1981
WH Allen
0-491-02954-3
Portugal paperback
Jan 1983
Editorial Presença
None
55
The Seeds of Doom
Philip Hinchcliffe
4th
UK paperback
Feb 1977
Target
0-426-11658-5
4.4
None
UK hardback
Mar 1977
Wingate
0-85523-161-0
UK 2nd hardback
Dec 1977
WH Allen
0-491-02104-6
US paperback
Mar 1980
Pinnacle
0-523-40639-8
US 2nd paperback
Feb 1981
Pinnacle
0-523-41620-2
US 3rd paperback
Jan 1983
Pinnacle
0-523-42507-4
UK Classics paperback
May 1989
Star
0-352-32416-3
US 4th paperback
Dec 1989
Pinnacle
1-55817-297-1
56
The Sontaran Experiment
Ian Marter
4th
UK hardback
Nov 1978
WH Allen
0-491-02046-5
8.5
UK paperback
Dec 1978
Target
0-426-20049-7
57
The Space War (Frontier in Space)
Malcolm Hulke
3rd
UK paperback
Sep 1976
Target
0-426-11033-1
6.6
None
UK hardback
Sep 1976
Allan Wingate
0-85523-077-0
58
State of Decay
Terrance Dicks
4th
UK hardback
Sep 1981
WH Allen
0-491-02953-5
4.5
None
UK paperback
Jan 1982
Target
0-426-20133-7
59
The Stones of Blood
Terrance Dicks
4th
UK paperback
Mar 1980
Target
0-426-20099-3
4.2
None
UK hardback
Mar 1980
WH Allen
0-491-02680-3
60
The Sunmakers
Terrance Dicks
4th
UK paperback
Nov 1982
Target
0-426-20059-4
5
None
UK hardback
Nov 1982
WH Allen
0-491-02758-3
61
The Talons of Weng-Chiang
Terrance Dicks
4th
UK 1st paperback
Nov 1977
Target
0-426-11973-8
6.2
None
UK hardback
Dec 1977
Wingate
0-85523-170-X
US paperback
Sep 1979
Pinnacle
0-523-40638-X
US 2nd paperback
Jan 1981
Pinnacle
0-523-41974-0
US 3rd paperback
Jan 1983
Pinnacle
0-523-42503-1
US 4th paperback
Apr 1989
Pinnacle
1-55817-209-2
UK 2nd paperback
Mar 1994
Target
0-426-11937-1
62
The Tenth Planet
Gerry Davis
1st
UK 1st paperback
Feb 1976
Target
0-426-11068-4
6.5
UK hardback
Feb 1976
WH Allen
0-85523-062-2
UK 2nd paperback
Feb 1993
Target
0-426-11068-4
UK 3rd paperback
May 2012
BBC Books
978-1-84990-474-2
63
Terror of the Autons
Terrance Dicks
3rd
UK 1st paperback
May 1975
Target
0-426-10639-3
7
None
UK 2nd paperback
Mar 1979
Target
0-426-11500-7
UK hardback
Feb 1981
WH Allen
0-491-02864-4
64
The Three Doctors
Terrance Dicks
1st-3rd
UK 1st paperback
Nov 1975
Target
0-426-10938-4
7
UK hardback
Nov 1975
Allan Wingate
0-85523-053-3
UK 2nd paperback
Apr 1978
Target
0-426-11578-3
UK 3rd paperback
Aug 1991
Target
0-426-11578-3
Poland paperback
Jan 1994
Empire
83-86126-01-9
UK 4th paperback
May 2012
BBC Books
978-1-84990-478-0
65
The Time Warrior
Terrance Dicks
3rd
UK 1st paperback
Jun 1978
Target
0-426-20023-3
7.2
None
UK hardback
Jun 1978
WH Allen
0-491-02413-4
UK 2nd paperback
Jun 1993
Target
0-426-20023-3
66
The Tomb of the Cybermen
Gerry Davis
2nd
UK 1st paperback
May 1978
Target
0-426-11076-5
7.4
None
UK hardback
May 1978
WH Allen
0-491-02262-X
UK 2nd paperback
Oct 1992
Target
0-426-11076-5
67
Underworld
Terrance Dicks
4th
UK paperback
Jan 1980
Target
0-426-20068-3
4
None
UK hardback
Jan 1980
WH Allen
0-491-02229-8
68
An Unearthly Child
Terrance Dicks
1st
UK 1st paperback
Oct 1981
Target
0-426-20144-2
5.3
UK hardback
Oct 1981
WH Allen
0-491-02806-7
France paperback
Jan 1987
Éditions Garancière
2-7340-0201-9
Germany paperback
Jan 1990
Goldmann
3-442-23626-6
UK 2nd paperback
Feb 1990
Target
0-426-20144-2
69
The Visitation
Eric Saward
5th
UK 1st paperback
Aug 1982
Target
0-426-20135-3
5.5
None
UK hardback
Aug 1982
WH Allen
0-491-02847-4
UK 2nd paperback
Feb 1992
Target
0-426-20135-3
70
The War Games
Malcolm Hulke
2nd
UK 1st paperback
Sep 1979
Target
0-426-20082-9
6.5
UK hardback
Oct 1979
WH Allen
0-491-02428-2
UK 2nd paperback
Feb 1990
Target
0-426-20082-9
71
Warriors' Gate
Stephen Gallagher
4th
UK paperback
Apr 1982
Target
0-426-20146-9
5.7
None
UK hardback
Apr 1982
WH Allen
0-491-02746-X
72
The Web of Fear
Terrance Dicks
2nd
UK hardback
Aug 1976
Allan Wingate
0-85523-073-8
8.4
None
UK 1st paperback
Aug 1976
Target
0-426-11084-6
UK 2nd hardback
Jan 1978
WH Allen
0-491-02184-4
UK 2nd paperback
Jan 1983
Target
0-426-11084-6
UK 3rd paperback
Dec 1993
Target
0-426-11084-6
73
The Zarbi (The Web Planet)
Bill Strutton
1st
UK hardback
Sep 1965
Frederick Muller
0-584-62012-8
7.1
UK 1st paperback
May 1973
Target
0-426-10129-4
Netherlands paperback
Dec 1974
Unieboek B.V. Bussum
90-269-8103-1
UK 2nd paperback
Jan 1975
Target
0-426-11324-1
UK 2nd hardback
Sep 1975
White Lion
0-85686-167-7
UK 3rd paperback
Jan 1976
Target
0-426-11324-1
Portugal paperback
Jan 1983
Editorial Presença
None
UK 4th paperback
Jan 1991
Target
0-426-20356-9
74
Time-Flight
Peter Grimwade
5th
UK hardback
Jan 1983
WH Allen
0-491-03140-8
4.8
UK paperback
Apr 1983
Target
0-426-19297-4
75
Meglos
Terrance Dicks
4th
UK hardback
Feb 1983
WH Allen
0-491-03150-5
4.1
None
UK 1st paperback
May 1983
Target
0-426-20136-1
France paperback
Sep 1987
Éditions Garancière
2-7340-0227-2
UK 2nd paperback
Apr 1993
Target
0-426-20136-1
76
Castrovalva
Christopher H. Bidmead
5th
UK hardback
Mar 1983
WH Allen
0-491-03330-3
6.5
None
UK 1st paperback
Jun 1983
Target
0-426-19326-1
UK 2nd paperback
Jun 1991
Target
0-426-19326-1
77
Four to Doomsday
Terrance Dicks
5th
UK hardback
Apr 1983
WH Allen
0-491-03450-4
4.4
None
UK 1st paperback
Jul 1983
Target
0-426-19334-2
UK 2nd paperback
Jun 1991
Target
0-426-19334-2
78
Earthshock
Ian Marter
5th
UK hardback
May 1983
WH Allen
0-491-03181-5
7.2
None
UK 1st paperback
Aug 1983
Target
0-426-19377-6
UK 2nd paperback
Apr 1992
Target
0-426-19377-6
79
Terminus
Stephen Gallagher
5th
UK hardback
Jun 1983
WH Allen
0-491-03131-9
5.6
UK paperback
Sep 1983
Target
0-426-19385-7
80
Arc of Infinity
Terrance Dicks
5th
UK hardback
Jul 1983
WH Allen
0-491-03061-4
3.8
None
UK 1st paperback
Oct 1983
Target
0-426-19342-3
UK 2nd paperback
Mar 1992
Target
0-426-19342-3
81
The Five Doctors
Terrance Dicks
1st-5th
UK 1st paperback
Nov 1983
Target
0-426-19510-8
5.9
None
UK hardback
Nov 1983
WH Allen
0-491-03052-5
UK 2nd paperback
Feb 1991
Target
0-426-19510-8
82
Mawdryn Undead
Peter Grimwade
5th
UK hardback
Aug 1983
WH Allen
0-491-03091-6
6
None
UK 1st paperback
Jan 1984
Target
0-426-19393-8
UK 2nd paperback
Mar 1992
Target
0-426-19393-8
83
Snakedance
Terrance Dicks
5th
UK hardback
Jan 1984
WH Allen
0-491-03151-3
4.1
None
UK paperback
May 1984
Target
0-426-19457-8
84
Kinda
Terrance Dicks
5th
UK hardback
Dec 1983
WH Allen
0-491-03121-1
3.9
UK 1st paperback
Mar 1984
Target
0-426-19529-9
UK 2nd paperback
Feb 1992
Target
0-426-19529-9
85
Enlightenment
Barbara Clegg
5th
UK hardback
Feb 1984
WH Allen
0-491-03132-7
6
UK paperback
May 1984
Target
0-426-19537-X
86
The Dominators
Ian Marter
2nd
UK hardback
Apr 1984
WH Allen
0-491-03292-7
5.7
UK 1st paperback
Jul 1984
Target
0-426-19553-1
UK Classics paperback
Sep 1988
Star
0-352-32265-9
UK 2nd paperback
Feb 1991
Target
0-426-19553-1
87
Warriors of the Deep
Terrance Dicks
5th
UK hardback
May 1984
WH Allen
0-491-03302-8
5.6
None
UK 1st paperback
Aug 1984
Target
0-426-19561-2
UK 2nd paperback
Aug 1992
Target
0-426-19561-2
88
The Aztecs
John Lucarotti
1st
UK hardback
Jun 1984
WH Allen
0-491-03462-8
7.1
None
UK 1st paperback
Sep 1984
Target
0-426-19588-4
UK 2nd paperback
Sep 1992
Target
0-426-19588-4
89
Inferno
Terrance Dicks
3rd
UK hardback
Jun 1984
WH Allen
0-491-03143-2
7.8
None
UK paperback
Oct 1984
Target
0-426-19617-1
90
The Highlanders
Gerry Davis
2nd
UK hardback
Aug 1984
WH Allen
0-491-03193-9
6.5
UK paperback
Nov 1984
Target
0-426-19676-7
91
Frontios
Christopher H. Bidmead
5th
UK hardback
Sep 1984
WH Allen
0-491-03253-6
5.8