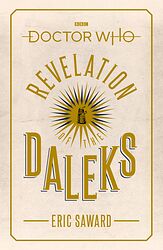 By:
Eric Saward
Released:
14 November 2019

Publisher:
BBC Books
ISBN:
978-1-78594-435-2
Format:
hardback
Owned:
Buy:
Note: Also available as an audio reading. Along with Resurrection of the Daleks, this is one of the last 2 classic Doctor Who TV stories never to have been novelised — a gap now being closed after more than 30 years.
Cover blurb:
Beware the hands that heal.
The Doctor and Peri land on the planet Necros to visit the funerary home Tranquil Repose — where the dead are interred and the near-dead placed in suspended animation until such time as their conditions can be cured.
But the Great Healer of Tranquil Repose is far from benign. Under his command, Daleks guard the catacombs where sickening experiments are conducted on human bodies. The new life he offers the dying comes at a terrible cost — and the Doctor and Peri are being lured into a trap that will change them forever.
At last, the only classic-era Doctor Who adventure never to be novelised is here, and by the author of the original script, Eric Saward.