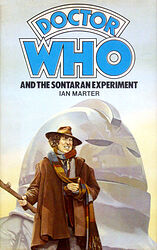 Edition:
UK (hardback)
Released:
November 1978

Publisher:
WH Allen
ISBN:
0-491-02046-5
Format:
hardback
Owned:
Buy:
Cover blurb:
No blurb on back cover. The inside front flap contains the same blurb as the paperback edition below. The inside rear flap contains the following author blurb:
Ian Marter was born in Coventry during the Blitz. He has been, among other things, a teacher and a milkman.
He became an actor after graduating from Oxford University, and has appeared in Repertory and West End productions and on television. He played Harry Sullivan in the BBC Television series 'Doctor Who'.
Ian enjoys writing, travelling and swimming in the sea. He is married, with two sons, and lives in London.